Latest Catch
Gunnar Prien with his solo 112 lb. halibut.
Gunnar's fishing partner, Willy Pauly, had already boated a 102 lb. barn door and decided to take a day off and relax in the hot tub at the lodge. Gunnar made the call to the lodge that he had a big halibut on and needed help. As always, we were there in a flash.
Harpooning and dispatching is a necessity will these big fish.
---
Young Lukas Riggs has had a trip of a lifetime,
Coho Masters Club, Black Gold Halibut Club, and he seemed to think swinging with his dad's 123-pounder. would be a good idea.
---
When our guests hook into a big halibut, we're only too happy to come out and assist in harpooning and dispatching the fish,
Here, Jim and deck hand Tyson are struggling to boat this 123-pounder.
---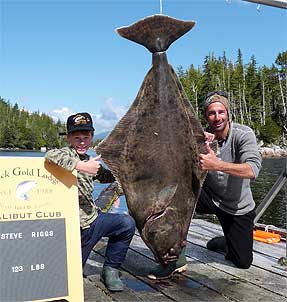 Steve Riggs with his 123lb.Barn Door Halibut. Son Lukas had a 50 lb hali the day before.
Could this be our largest of the season ?
---
Brent Hleuka with a late season tyee, Brent Is no stranger to our Tyee Club and has caught more then any other guest over the last 20 plus years.
The Hleuka brothers Tom and Brent will catch salmon when others don't..
---
Tim Wilson with his 35 lb. tyee.
Tim has salmon fished his whole life and said he has waited 66 years for this day. We at Black Gold are very happy this happened while fishing with us.
---
A VERY proud Willy Pauly showing off his 102 lb. halibut.
This is the largest of the season so far, but it's not over yet !

The halibut have moved into the area. Another guest was on the scene to help with the harpoon, Wolfgang Prien has had lots of experience with the Harpoon and just the day before he had a Barn Door on for an hour, after several times to the boat he broke off.
As Wolfgang said it doesn't matter it's all about the sport - a true fly fisherman.
---
Lukas Riggs with his 17 lb. northern coho.
Lukas is having a great trip, his 50 lb. halibut yesterday getting him into the black Gold Halibut Club, and now a Coho Masters Club member today.
Luke tells us it's a tyee tomorrow !
---
Gunnar Prien with a really nice northern.
Gunnar took another in the evening that just missed another Coho Masters pin.
---
Lukas Riggs and his FIRST halibut, a WHOPPING 50 lbs. After a long morning of fishing and down to their last herring bait, Lukas was thinking it time to head into the lodge for a break and some food. But his dad, Steve Riggs, said "OK Lukas, but it's our last bait so lets finish it up right." And within a very few minutes the rod became active. NOT YET Luke!!.... NOW!! and Lukas set the hook. The battle was on. "I did it all myself, Jim," was the first thing he said as I was about to take this photos. A great father & son moment to be remembered for a lifetime. GREAT JOB GUYS.
---
On the first outing of their trip, Susan Payton boated this 27 lb. chinook, her largest ever.
With the late arrival of the runs this year we are fishing for tyee and northern coho at the same time.

From the left - Mark Payton, Susan Payton, and Stephen Blackie.
It's all about teamwork!
Tubs of big northern coho are lined up at the cleaning tables averaging
12 -14 lbs.
---
Marianne Ingram with her 14 lb. Northern Coho putting her in the Black Gold Coho Masters Club.
Marianne fished with her grandfather, Ray Tipke. He is a young 97-year-old who has said for years he'll celebrate his 100th birthday here at Black Gold.
---
Marcus Rayner with his 16 lb. northern coho.
With this fine catch, Marcus became the latest member of the Black Gold Lodge Coho Masters Club.
---
Jim Asher ( left ) has the 14 lb. northern on the scale, pictured here with Scott Turner. They had a good morning of coho fishing.
Even alongside these almost 7' tall guys, these fish still look like nice coho.
---
Andreas Winstock and his 15 lb. northern coho, entering him into Coho Masters Club for 2012.
---
Jordan Boisvert.
This was Jordan's first trip to the lodge and his first Salmon EVER ! A beautiful 34 lb. tyee is a great way to start salmon fishing.
The fish was hooked, and as for Jordon...well, what do you think? His smile says it all.
---
Tony Silveri with a nice chinook.
This one just missed the Tyee status, but it's a fine fish in anyone's book.
---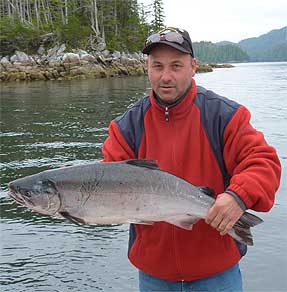 David Ferrero with a nice northern coho.
Mid-August ushers in the Big Northerns.
---
Paul Allard with his GREAT 17 lb. coho.
Paul has fished with us for years but we think this is his best ever northern coho.
---
Olaf Soyka landed this 40 lb. tyee on his first hour on the water.
No pressure for the rest of his nine-day trip.
---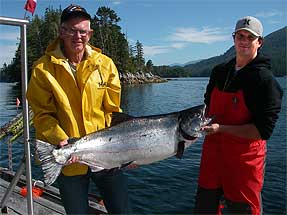 Scott Haggins and his son Ward teamed up to catch and land this great 50 lb. tyee.
While battling the fish it took them into the wall of fog, but the battle continued and the father-son team won over the elements.
Great fish, guys.
---
Rick Pasternak pictured here with a nice 30 lb. tyee.
This was the third big salmon for Rick this trip: a 35, a 30 and a 27 pounder.
Well done, Rick.
---
Harriet Ferreira with her 32 lb. tyee.
Nnot to be out done by her hubby Mike the day before, Harriet told me Mike though he had the tension set too loose. That is, until he tested it and found out that the fish was much bigger then he had thought. Forty minutes later, Harriet had her trophy.
---
Rick Pasternak with his 35 lb. tyee. This is an on-the-water photo.
Rick and his fishing buddy Les Sansome both took 35 pounders. No real competition, but happy to be matched.
---
Les Sansome and his 35lb chinook.
Over the years Les has caught many fine tyee at Black Gold. You'll see him in our trophy Room several times.
---
Mike Ferreira with a 25 lb. chinook.
Long time guests of the Lodge.
NICE FISH Mike
---
All smiles is Gerry Perry with his 50lb. tyee.
Gerry is a long time guest at the Lodge and has caught many large fish, but he has never broken into the famed 50 LB.+ club. That is until the evening of Aug.15, 2012 when he decided to make just one more pass of the Wall. After an hour long battle the prize was his.
A happier fisher would be hard to find.
---
Is this guy a motorcycle builder ? No it's not Paul JR.
Erik Ponomar with his first Salmon ever on his first Salmon fishing trip EVER.
A 57 lb. beauty, largest of the season...so far.
---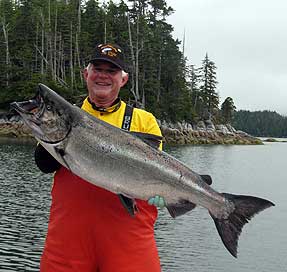 Dr. Joe Teply with his second Tyee of his trip to Black Gold.
Dr. Joe takes a break from his hectic life as a heart surgeon and visits the lodge for at least two trips per year. He has been doing this for the past 20 years.
Congratulations on your latest success, Joe.
---
Ed Johnson with his 73 lb.halibut.
Ed landed this beauty on his light tackle Salmon rod and single action reel supplied by the lodge, while just looking for bottom fish and in 60 ft. of water. Not all big fish swim deep.Largest Halibut of the season so far.
More updates as they happen...
---
Dr. Joe Teply took this 44 lb. tyee off the bluff.
Over the years Dr. Joe has taken many tyee with Black Gold. As we stood on the float and talked he asked, "Where do I go first Jim?"
"Well Joe," I said, "you know this area as well as I do, but the big fish are here now so if it where me I'd go to the place where I could fish in calm water, probably the Bluff."
"The bluff it will be then," he said, and after fishing less than an hour he got the bite. As Joe fishes by himself it's no easy task playing and netting a tyee of any size. But he has the experience, and as I said he has had many big fish over the years.
---
Tom Bower with his first chinook of the season.
Tom visits Black Gold twice every season, the staff can't wait for his trips, as he loads them up with Krispy Kreme donuts and they LOVE it.
---
Never say an 80-year-old Canadian Merchant Marine is done!! While plying the Wall area, Don Post of Ontario, Canada had a thrill of a life time. Don is no novice when it comes to catching BIG CHINOOK. He has fished Rivers Inlet for many years. But this particular Tyee gave him the battle of a lifetime. Hand-to-hand combat is the only way to describe it.
Don hooked the fish and all things were going pretty normal for battling a 43.5 lb. Tyee. One hour later Don felt like he was gaining the upper hand…that is, until his reel malfunctioned. His drag backed off as the fish was running, and the next thing Don knew his spool came off and onto the floor of the boat. His only choices were to cut the line OR keep fighting the fish in a hand-to-hand battle! Well, once a Marine always a Marine, and so the battle continued. Luckily, the fish had already been played for an hour. Now Don was hand-lining the fish in, and when one hand came close Don would hold the line in his teeth!! The hand-to-mouth system was working, and after a few more short runs the fish was brought to the boat on it's side and ready to be netted.
Congratulations to Don for a battle won